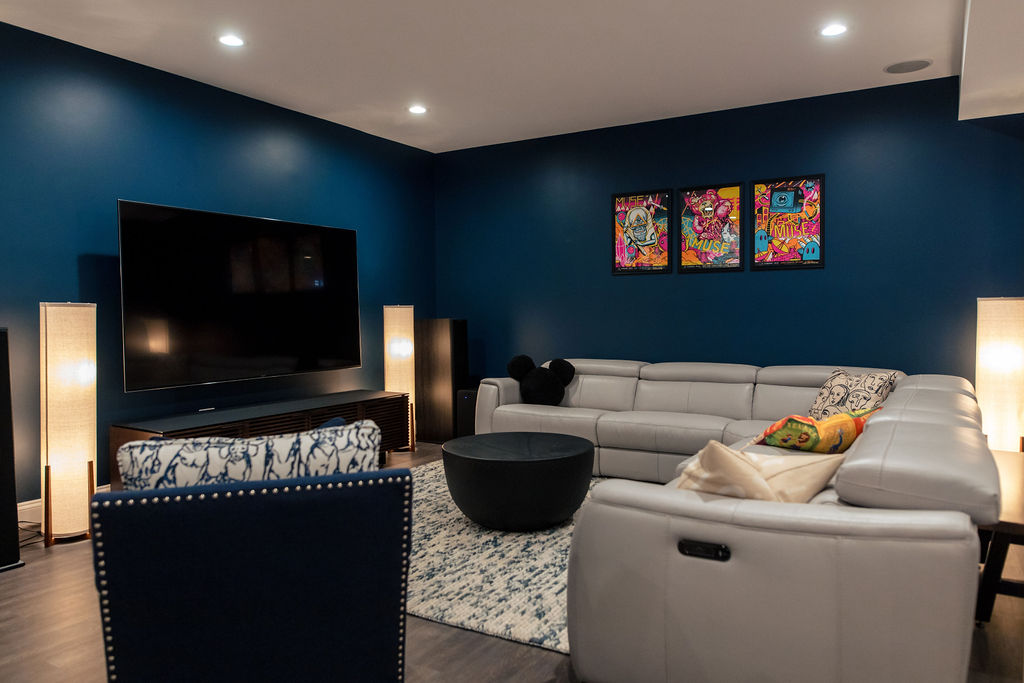 Home theaters are a luxury that many Hollywood celebrities enjoy. Now, you can have one, too. With a little planning, your in-home theater can be the ultimate movie-watching experience.
A Basement Theater Is a Great Idea
Is your cold, dark basement just sitting there unused? Liven things up by installing a home theater system where you can watch movies, play video games, listen to music and catch up on your favorite shows.
A basement is an ideal location for a home theater.
It's great for acoustics. Most basements have concrete floors and walls, which help reduce sound vibrations and prevent loud sounds from disturbing your neighbors.
Installing carpeting will control sound and vibration even more.
It's a large, flexible space where you can design the movie den you want.
If your basement is unfinished, you're not enjoying your whole house.
You'll definitely increase your home's resale value.
Set Up Your Seating
Do you want your home theater to look like a cozy clubroom, with sofas and armchairs grouped around a coffee table? Do you want your seating lined up in front of the TV for a true movie-theater experience? Whatever style you choose, comfortable seating is key. Look for chairs and sofas that recline for relaxing viewing.
Light It Up
Lighting effects add to the fun of a home theater. Put your overhead lights on a smart remote you can control from anywhere, so you can lower the main lights when it's movie time.
Install LED lights next to the ceiling or sound system, and use a lighting scheme that makes them light up when the movie starts. Place sconces in corners around the room, so people can move around safely in the dark.
Make It a Bar
Do you want your home movie theater to feel like your favorite neighborhood bar? Add the elements that create the same look and feel.
Install a bar and stools along one wall, and use another to set up your big-screen TV and a row of armchairs. Add a pool table, a dartboard, and hanging lights.
Add a Projector
If you really want to recreate a cinematic experience, install a screen and a projector instead of a TV. You can watch movies, games, and more on a screen as big as your wall.
We'll Help You Get a Great-Looking Basement with a Theater
A basement theater is a perfect getaway, and all you have to do is climb down the stairs to reach it. If you want to create an amazing entertainment area, talk to the experts at Loudoun Basements.
With our six-step basement finishing process, we'll create the ultimate home theater for you.