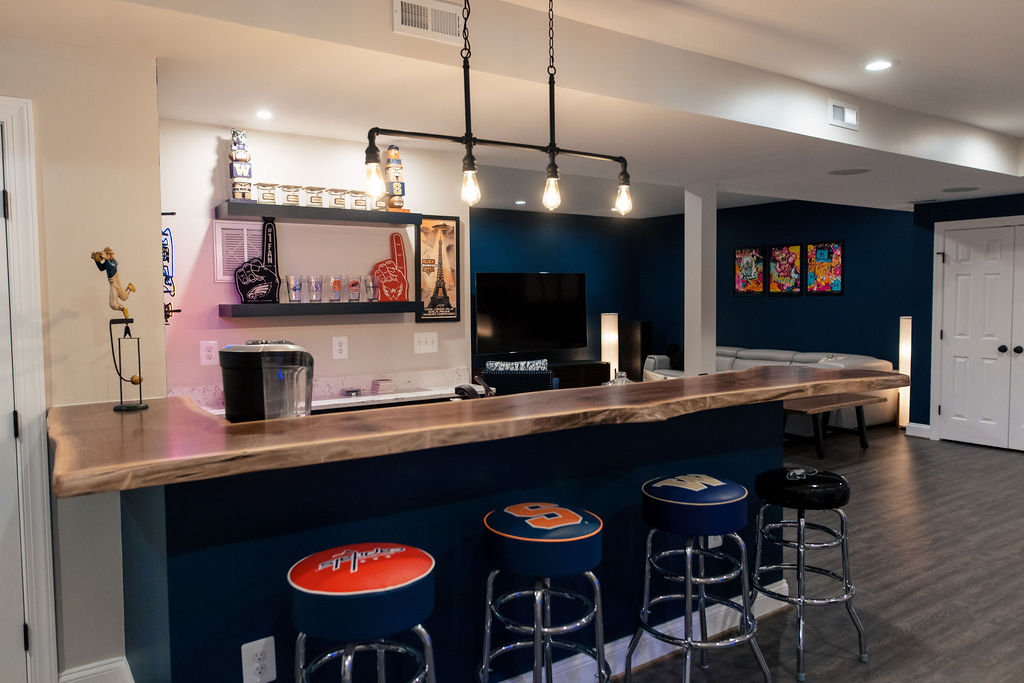 Basement Lighting Expressions
For many people, the basement is a forgotten room. If not unfinished, it is usually left very plain.
Yet, it is often the biggest room in a house, & a cool sanctuary to escape the summer heat, especially when your AC isn't enough.
So why should it stay so plain? Or so dark & dreary that it is seldom used?
Breaking New Ground with Basement Lighting
I know it sounds like I'm making a mountain out of a molehill, but it's been on my mind since having my jaw dropped last week.
I was invited to have dinner with a friend of a friend. Afterward, she took us to her basement to hang out. Wow.
It was like a museum of light. Well. Lights.
White, tile floors. Different wall patterns to divide different themes. Different kinds of lights flickering & winking from every side.
My friend said that it looked like what an arcade would look like on a space station.
LED Lighting in Basements
She took us first to a darker part with a plush black carpet & black walls. Both covered conservatively small, white LEDs. Like stars at night. She opened a small fridge & handed us some drinks, but we were focused on the walls. I was starting to feel what my friend meant, & wishing I had a basement like this when I was a kid. I might have grown up to be an astronaut.
Basement Home Office Lighting
Next, she showed us her husband's part. It was lit by a blue-red faux neon light. All the fun with none of the noise or danger. The room was a deep blue with a red sofa, chair, & table.
Across from this was a work corner, lit with old-fashioned yellow lights. They were inside little cages, too, as if it were in an old mineshaft. I thought it was a bit excessive, but it complimented the wood-themed walls nicely.
Basement Bar Lighting
Then she took us to the bar.
Before I continue, you're probably wondering how absurdly large this basement must be. It definitely wasn't tight, but it was no larger than most suburban basements. In reality, though, it did feel as large as it sounds. She had spent only a couple of months setting it all up, but I felt like I could comfortably live down there for years.
Back to the bar. It was themed like a sports bar. Neon lights, wooden bar, bottle rack, big TV, & stools.
The Right Lighting for Gamerooms
Across from it was a game room with a pool table, & a couple of old-fashioned game machines. To be real with you, I don't remember what they are called. One was a red Ms. Pac-Man machine, the other was turned off at the time.
Finally, she took us to the office portion. A wall full of books, with two desks set up on either side of the wall. One was a blue-white medical theme, as her husband was a doctor. The other had a more vintage feel, as she worked with computers & "needed a break from all the techy-stuff all the time".
I laughed & asked if having a doctor & computer tech in the same house helped pay for all these decorations. She didn't find my joke very funny.
After an awkward pause, she said that it really hadn't cost that much. It was a lot of work to get everything painted, wall-papered, floored, wired, etc., all in a couple of months. But she said it wasn't nearly as hard as she expected.
Lighting with Loudoun Basements
Basements are stereotyped as cellars of cobwebs & condensation. So take that lightbulb off your head & use it to creatively light up your basement. With some fun work, you can scare the spiders away & turn it into the coolest, comfortable room in any house.