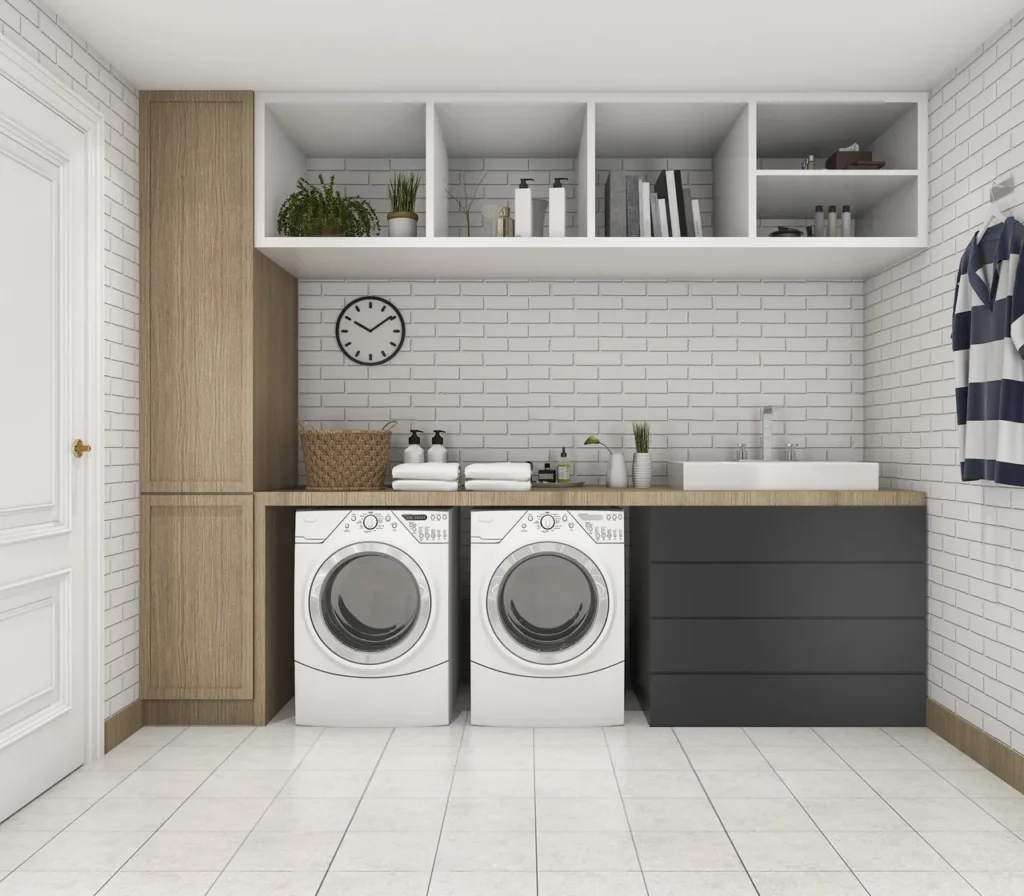 Basement Renovation – Laundry Room
Are you planning to upgrade the laundry room in your finished basement? Here's how to do it with style.
Why Put a Laundry Room Downstairs?
Many new homes today are designed with laundry rooms on upstairs floors, but there are excellent reasons to keep a laundry room in its traditional spot in the basement.
A finished basement is roomy, and that gives you space to hold modern appliances, a large sink, and plenty of folding and hanging room. It's likely to have existing plumbing, which makes the hookup much easier.
Then there's the noise factor. Even modern, quiet appliances are pretty noisy. A laundry room stashed away downstairs is less likely to bother you with its humming, beeps, and rattling.
Here are some ideas for designing a laundry room you'll enjoy using.
Upgrade the Appliances
If you're remodeling, use the opportunity to upgrade your old washing machine and dryer. Most experts agree that after 10 years, most large appliances start to break down. New appliances will save you time and protect your clothing.
Today's models are fast, relatively quiet, and energy-efficient. Look for Energy Star-rated appliances that will help you save money every month.
Give It Some Style
After the kitchen, the laundry room may be the most utilitarian room in your house. For too many people, it's a dreary hole tucked away in a basement. It doesn't have to be that way, however. There is no reason your laundry room shouldn't have as much style as any other room.
Paint or paper the walls: Freshen the walls for an instant makeover. Choose colors that combine with the rest of your house, or give the laundry room its own color scheme.
Brighten the floor: The flooring in your laundry room must be waterproof and durable. The same flooring you used on the rest of your finished basement will work here, but why not add some individuality? A nonslip rug in bright colors adds a fun touch. A thick, padded foot protector keeps your feet and knees from getting sore.
Add artwork: Decorate the walls with framed prints or posters that have a laundry theme. These are available in most home decorating stores, and they're an inexpensive way to add a distinctive touch.
Make It Work for You
Think about what will make your laundry day as efficient and easy as possible. Here are some ideas:
• Extra-large folding table: Folding large items like sheets can be a pain, so give yourself room to move with an extra-large table.
• Indoor hanging lines or racks: Use these to pin up your delicate items, sweaters, and other clothes you prefer to hang dry.
• Sorting baskets: Attach labels to baskets or hampers. Tag one for bedding, and give each family member their own basket.
• Detergent display: Put detergent, bleach, and softener in easy reach on a custom-built shelf or swinging shelf. You can transfer these items into attractive canisters to make them match your laundry room décor.
Talk To the Basement Experts
At Loudoun Basements, we specialize in upgrading your basement. We can turn any laundry room into the beautiful, efficient, and well-designed laundry room of your dreams. It's easy to get started. Just give us a call.