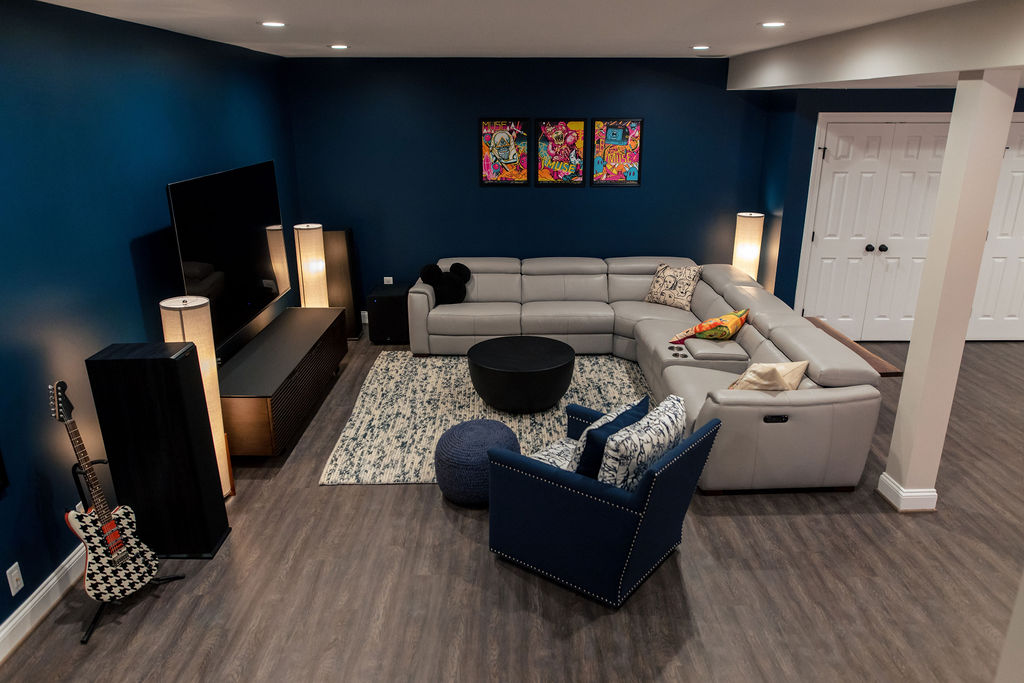 When you're finishing a basement, you want flooring that feels comfortable, looks good and repels moisture. How well do the most popular flooring types stand up?
Ceramic and Porcelain Tile
Tile looks beautiful. It adds timeless elegance and easy maintenance.
Pros: Tile is tough, long-lasting, and easy to keep clean. It is impervious to water and mildew. It's ideal for basements in humid areas like Loudoun County.
Cons: You can't install tile directly on concrete. You must install an underlayment first. This flooring can get cold in winter, so use area rugs or add insulation. Ceramic and porcelain tile are the most expensive flooring types to buy and install.
Carpet
Carpet seems like a natural choice because it adds warmth and insulation. It's not a great choice for basements in high humidity areas, however.
Moisture in the basement can trigger the release of mold and mildew in the carpet or underlayment. Many basements in Loudoun County smell musty, and carpeted flooring is usually the reason.
Pros: It feels soft and luxurious. Inexpensive carpeting is a low-cost option if you want the basement finished quickly.
Cons: How dry is your basement? If it floods just once, the carpet will be ruined. If you really want carpet in your basement, install a moisture-resistant subfloor and a waterproof underlayment.
Laminate
Get the look of hardwood without the cost or upkeep. Laminate flooring comes in a wide variety of styles and colors. It's a popular choice for good reason.
Pros: Laminate gives you the look of hardwood, but it requires little maintenance and is highly moisture resistant. It's easy to install.
Cons: You can't install it over an uneven floor. If your basement floor isn't straight, you can use a leveling compound or leveling shims to create an even surface.
Luxury Vinyl
Luxury vinyl plank and luxury vinyl tile are like laminate. This type of flooring offers many benefits. It's ideal for basements because it is highly moisture resistant and can be installed anywhere, including on uneven subfloors.
Pros: It is low-maintenance, moisture-resistant and almost indestructible. This flooring comes in an enormous variety of finishes and colors. You can get flooring that looks like ceramic tile or hardwood at a fraction of the cost.
Cons: It costs more than laminate or sheet vinyl to install.
Rubber
Rubber is a necessity if you're using part of your basement as a home gym. It's inexpensive flooring that's easy to install.
Pros: Rubber protects your subfloor while you work out. It resists moisture and mildew. It's durable and almost impossible to tear.
Cons: Rubber isn't the most comfortable flooring, and it can get cold. It's hard to find rubber floors that look attractive.
Vinyl Sheet Flooring
Vinyl sheet flooring is easy to install. Today's vinyl flooring comes in a variety of colors, styles, and finish types. You can get vinyl flooring that looks like tile, hardwood or stone.
Pros: Vinyl is inexpensive and easy to install compared to other flooring types. It resists moisture and is easy to clean.

Cons: Vinyl sheet flooring can rip, and repairs are often costly or impossible. It can also develop water and rust stains that are hard to remove. Vinyl won't last as long as laminate or luxury vinyl.
We'll Help You Choose the Right Flooring
At Loudoun Basements, we want to make your basement your favorite room in the house. We'll help you select the right flooring for your basement. Call us today to discuss our six-part basement finishing process.