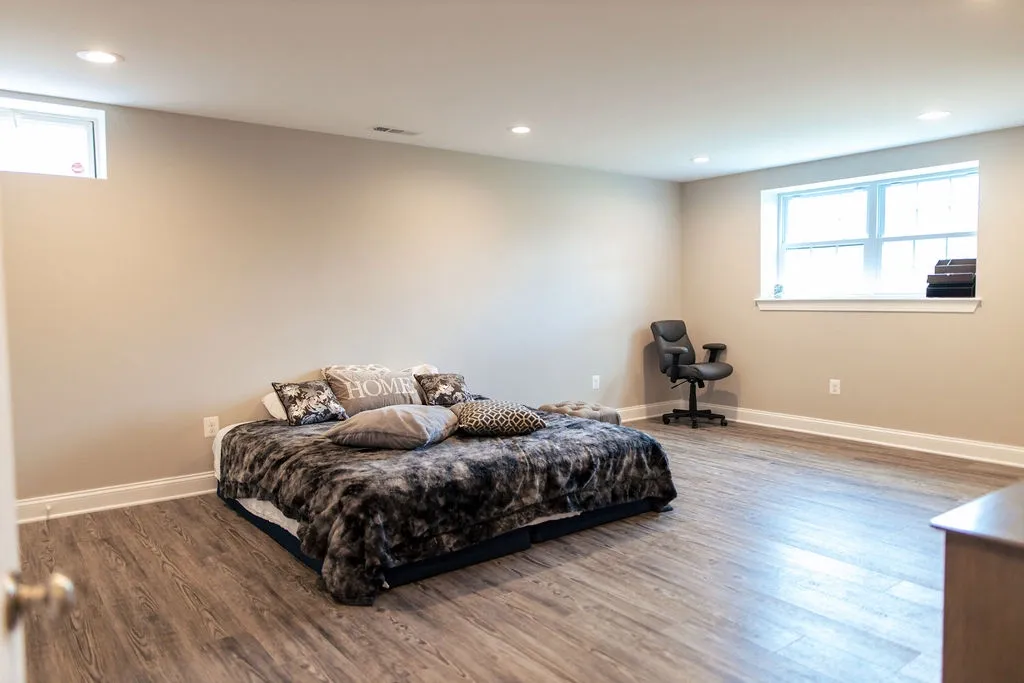 What To Know About Adding a Basement Bedroom
Are you thinking of adding a finished basement bedroom? Here's what you need to know about permits, appraisals, building codes, and more.
A Basement Bedroom Adds Value
According to Remodeling magazine, a finished basement results in a 70% return on your remodeling dollars.
How will this affect your appraisal? Finished rooms below grade usually appraise for 50% to 70% of the same value of above-ground rooms. You can get the highest value if you:
Use high-quality materials.
Conceal pipes, ducts and other unsightly items.
Add a walkout.
Install a closet in the bedroom.
On the plus side, a lower appraisal means your property taxes won't go up as much as they would with an above-ground improvement.
What Qualifies as a Bedroom?
You can't just section off part of your basement and call it a bedroom. To qualify as a bedroom for appraisal and tax purposes, your basement bedroom must have:
Windows that match local code requirements.
Separate "egress" or exit.
Ceilings that are 7 feet or higher.
Heating and air conditioning.
Fully finished details, including flooring, walls and electrical power.
Compliance with all state and local codes and permits.
Make It Attractive
Decorating may be the last thing you get around to when you finish a basement, but it's important. Make your guest suite inviting with neutral walls, soft colors and thoughtful details. If you furnish it, use furniture in soft gray or off-white colors.
Add a ceiling fan. If the room doesn't have a closet, add a chest of drawers or a freestanding wardrobe. If the bedroom has an attached bathroom, add bathroom furnishings in the same neutral colors.
Permits and Licensing
Are you ready for the paperwork involved in adding a bedroom?
Loudoun County requires a building permit, electrical permit and plumbing permit for work done on your basement room. You may need a gas permit to install gas appliances and a mechanical permit for ductwork.
That's a lot of permits. Talk to your basement contractor about getting the required permits before you begin finishing your basement.
You will also need the following inspections:
Rough-in inspection on electrical, plumbing, gas and mechanical permits.
Framing inspection.
Insulation inspection.
A final inspection when all work is finished.
Listing Limitations
In some areas, you can't include a basement bedroom in your home's official Multiple Listing Service (MLS) descriptions. If your home has two above-ground bedrooms and a basement bedroom, you must list it as a two-bedroom house.
You can add it to your home's description, however, by calling it a "bonus finished room" or "flexible finished room."
Check Your Septic System
What does your septic system have to do with adding a basement bedroom?
Many people believe a septic system is designed around the number of bathrooms a home has. In fact, its design depends on the number of bedrooms in a home. The number of bedrooms is a better indicator of how many people will use the bathrooms.
If your current system only meets the needs of three bedrooms and you're adding a fourth, you must increase the capacity of your septic system. This isn't cheap, but the alternative is worse. Homebuyers have successfully sued homeowners and realtors who misrepresented the septic tank's capacity.
Add a Bedroom Without Losing Your Basement
If you want to add a bedroom without giving up the rest of your basement, you can do that. Loudoun Basements can show you how to create an inviting guest bedroom while leaving room for your basement bar, game room, or entertainment center.
Contact Loudoun County's Basement Experts
A finished basement bedroom is an excellent investment in your home. Expand your possibilities, add space, and create an inviting bedroom suite for guests or renters. To get started, contact the basement experts at Loudoun Basements today.