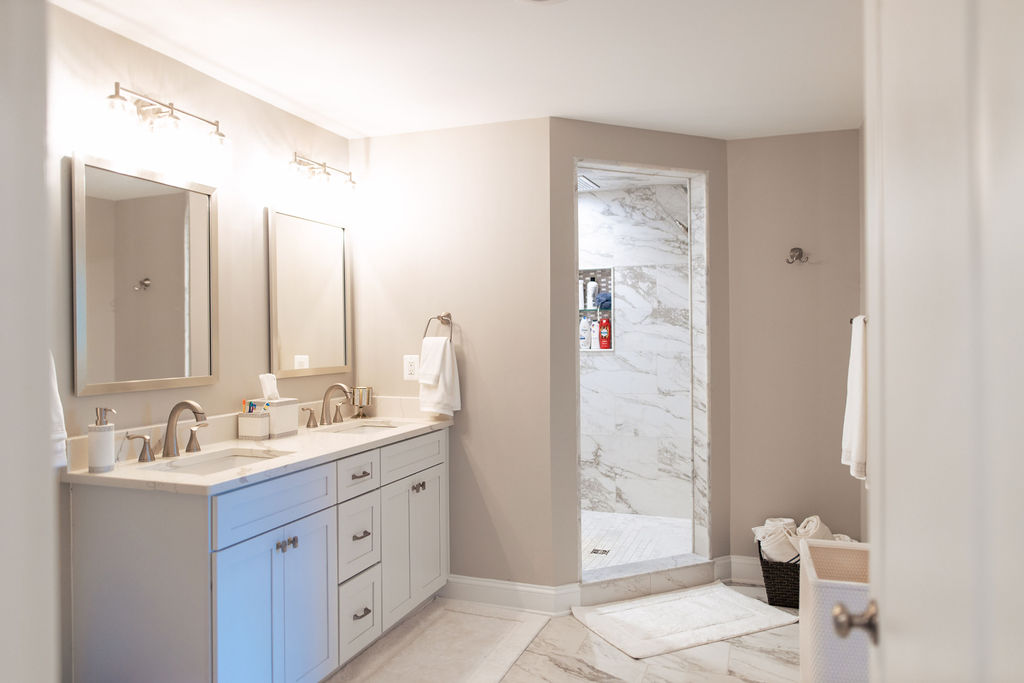 Including a Full Bathroom
Adding a full bathroom to your basement expands its possibilities. You can design a full, separate living area or create a new guest bathroom.
A downstairs bathroom is convenient for parties and for days when you're enjoying your backyard. Another good reason to add one is to increase your property value.
Adding a bathroom is an excellent investment in your basement, but there are some things you should know before you start.
Codes and Permits
Before you start work, find out what permits or inspections you will need. In Virginia, you will need a plumbing permit. You may also need a Loudoun County town zoning permit. A basement finishing contractor can help you with the permitting process.
Layout and Design
The first thing to think about is the style and size of your planned bathroom.
Half bath or powder room: This is a toilet and sink only.
Full bath with shower: This is a toilet, sink, and shower.
Full bath: This style has a toilet, sink, and a combined bathtub/shower.
Design ideas: In some modern homes, the shower and bathtub may be separate from each other. Some homeowners prefer to separate the toilet in a private cubicle. Your final design depends on your personal choice, your budget, and the size of the bathroom.
Drainage and Plumbing
It makes sense to place your new basement bathroom directly under the bathroom on the above floor. This makes plumbing easier and cuts down on installation costs. If you want the bathroom in a separate area, this will require extensive added wiring and plumbing.
Waste disposal is another important consideration. If the sewer line at your house is deep enough, you can install water pipes that carry the wastewater away. Deep drainage lines use gravity to carry water from the house into the sewer system.
If the system isn't deep enough, you'll have to install a waste disposal system. You might consider a sewage-ejector system or another type of disposal. A plumber or your basement contractor can tell you about the proper depth of drainage you must have.
Toilet Types
The drainage and plumbing also affect the type of toilet you can install. Different types will work in a basement bathroom.
Up flushing toilet: This is a self-contained unit that requires no excavation to install. It can connect to a sewer or septic line.
Sewage-ejector toilet: This toilet sits on an enclosed tank and pump unit. It pumps sewage upward into a septic line or sewer.
Pressure-assisted toilet: A pressure-assisted toilet uses air pressure to force wastewater upward. It works in almost any lower floor or basement bathroom.
Composting toilet: An eco-friendly choice, a composting toilet uses very little water. It turns wastewater into compost you can use on your plants.
Contact the Basement Experts
If you're ready to install a bathroom in your finished basement, talk to the experts at Loudoun Basements. We'll help you with the process from first design to final installation.