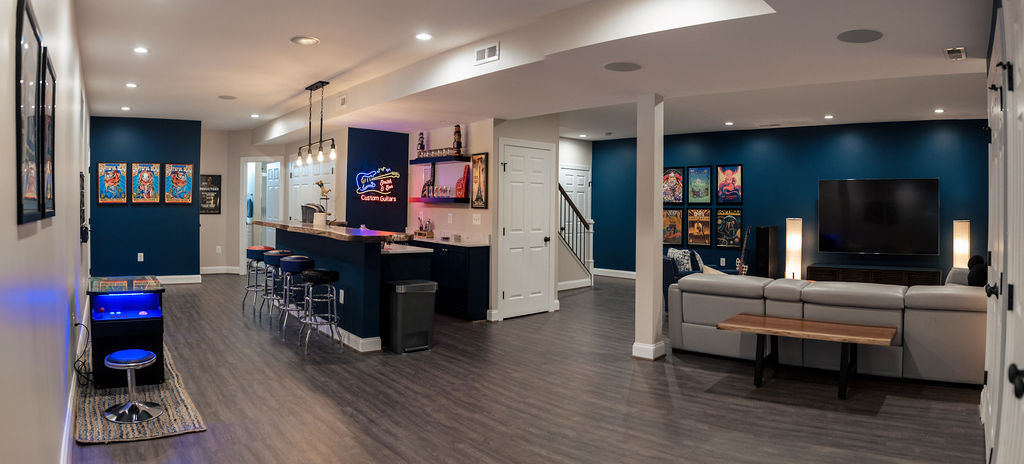 Ready for a Basement Game Room?
Your finished basement is the perfect location for your game room. Whether you like video games, board games, billiards, darts, or just watching the game on a big-screen TV, you can invite everyone to your getaway under the stairs. Here are some tips for creating great game rooms.
Choose Your Decorating Style
What style of game room would you like? Once you decide, you can use that to guide your choices of furniture, colors, and accessories. Here are some ideas.
• Give it a rustic pub feel with a wooden bar and barstools, dark walls, tile flooring, and vintage posters.
• Create a serene, modern getaway with white or pastel walls, modern furniture, and gray furnishings.
• Add cubbies, a brightly colored floor, and a mural to make it the ideal kid's playroom.
• Pillowy sofas, fluffy rugs, and jewel-toned colors create a glamorous game room.
Let the Games Begin
The best game rooms allow everyone to choose their fun. If you're fans of online gaming, you need a dedicated wireless network and gaming routers. You should also have secure tables and high-quality consoles.
If you enjoy traditional bar games, a pool table can be the focal point of your room. Set up a table in one corner for card games and board games. You can add dart boards to a wall that's safely tucked away from the main action. You may even have room for a ping-pong table. For the ultimate game room touch, add a bar and barstools.
Add Soundproofing
Soundproofing means you won't bother anyone when your gang gets a little rowdy. It also improves the acoustics of a basement, which usually aren't that great. Add curtains, acoustic panels, and insulation to improve sound quality. Make it comfortable by tucking wires under carpets or behind shelves. If you're not adding a drop ceiling, cover or paint the exposed pipes. 
Turn the Lights On
Lighting is key in your game room. Try a combination of recessed lights and pendant lights. The recessed lights can illuminate the whole room. Hanging lights give extra lighting over pool tables or game consoles. Add under-cabinet lighting for an inviting touch.
Make It Comfortable
Give your guests and game players options for seating. Bar seating is always popular. Large, overstuffed chairs, ottomans, and a loveseat add more options. If space is limited and you're expecting a crowd, stash folding chairs and floor pillows in a closet.
Tips for a Small Game Room
Maybe you've used the basement for other rooms, and the space you've set aside as a game room is small. Here are some ideas for a small, inviting game room.
• Build shelving into the walls, and use it to store games, game accessories, glasses, and snacks.
• Even a small space can fit a loveseat, a small table with four chairs, and a desk with a gaming console.
• Hang the TV on the wall. Make use of all available nooks and crannies for storage or seating.
Get Your Game On
If you want help creating the perfect basement game room, talk to the experts at Loudoun Basements. With our six-step basement finishing process, we'll help you build a basement where the fun never stops.